Japanese anime is so popular that many people try to incorporate it into their language learning routine. Anime is a great learning tool because it's fun and there is a lot of it. Here are some fun anime series you can get into to improve your Japanese!
                                          The show revolves around a polar white bear that quits his job and opens
                                          a cafeteria. It's a great source for beginner level Japanese students. Want
                                          to learn how to greet new people in Japanese? Click here:
                                          http://www.japanesepod101.com/2010/01/15/video-2-basic-japanese-2-
                                          basic-greetings/
                                         A murder mystery with relatively simple dialogues. Want to Learn Japanese?
                                        Get FREE Japanese Word of the Day Lessons: http://www.japanesepod101.com/
                                        japanese-phrases/
                       Genius bartender Sasakura Ryuu makes the most incredible cocktails anyone has ever tasted.
                       Learn about the top 5 alcoholic drinks in Japan: http://www.japanesepod101.com/2015/07/
                       11/talking-japanese-culture-3-top-5-alcoholic-drinks-in-japan/
                                          A fast-paced comedy about a group of girls who discuss random things
                                          and usually reach an unusual or humorous conclusion that's far from
                                          the initial discussion topic. Boost your Japanese with our Vocabulary lists:
                                           http://www.japanesepod101.com/japanese-vocabulary-lists/
                                          One of the most popular anime in Japan, this supernatural thriller is a
                                          great way to boost up your Japanese vocab. Check out this FREE lesson
                                          about the top 5 reasons to learn Japanese: http://www.japanesepod101.c
                                          om/2009/07/06/all-about-1-introduction-to-japanese-and-top-5-reason
                                          s-to-study/
                       The story follows the adventures of pirate Monkey D. Luffy and his crew in their search for a
                       famous treasure. Learn the 100 must-know Japanese words:
                        http://www.japanesepod101.com/japanese-word-lists/?coreX=100
                                         Very simple, very entertaining, especially if you're a cat person. Want to
                                         learn how to Introduce yourself In Japanese? Check out this FREE video
                                         lesson: http://www.japanesepod101.com/2014/10/26/innovative-japan
                                         ese-1-how-to-introduce-yourself/
                                            It was an ordinary, beautiful day when the GATE appeared in Ginza,
                                           Tokyo, changing the world forever. Have you come across a word you
                                           don't know? Look it up in the JapanesePod101 dictionary:
                                            http://www.japanesepod101.com/japanese-dictionary/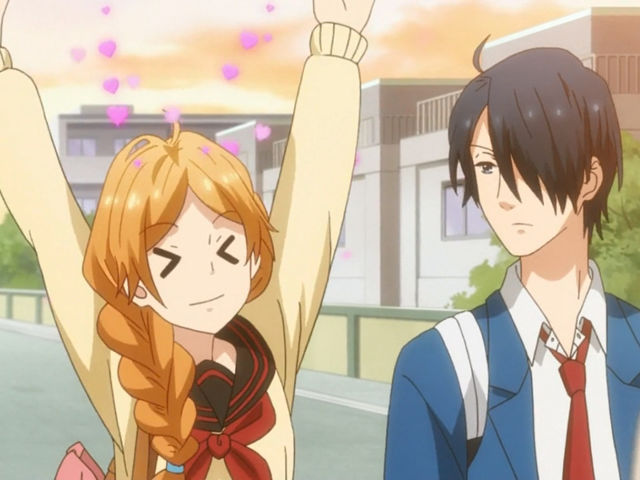 The series details the lives of four main characters that spend their days trying to have fun by
                        finishing their studies and debating about romance. Want to learn more about Japanese culture?
                        Visit our FREE Culture Class at http://www.japanesepod101.com/index.php?cat=71.
Musaigen no Phantom World
                                          Phantoms, beings that blur the line between illusion and reality, wander
                                          around right under the noses of unsuspecting humans. Their origins are
                                          mysterious and few can see themーthat is, until a research facility bombing
                                          spreads a virus that grants the ability to.